In-Kind Donations
So many families and individuals in Southwestern Pennsylvania go without basic items most of us take for granted.
We're pleased to share your tangible donations – tax deductible based on their fair market value — with those who need them most.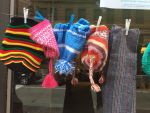 Pressing Needs
Our area's most pressing winter needs include:
Non-perishable food items for our winter warming stations
Baby Clothes for the winter months, sizes 0-24 months
It is difficult for us to pick up in-kind donations, but they may be dropped off at one of our office locations or program sites.
For more information:
Sarah McMurtry, In-Kind Donation Coordinator
412-325-6754
smcmur@ccpgh.org
Amazon Wish List
Make an In-Kind Donation benefitting Catholic Charities of Pittsburgh through our Amazon Wish Lists. To view a Wish List, click one of the links listed below and sign into your Amazon account.