Catholic Charities Daytime Shelter
Begins: December 1, 2020
Hours: 7:30 a.m. - 6:30 p.m.
Days open: Seven days a week
Meals: Breakfast, lunch and dinner will be offered
Location: "Red Door" of St. Mary of Mercy Church
Boulevard of the Allies and Stanwix Street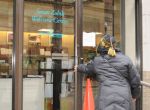 "We know without these facilities the homeless population in downtown Pittsburgh will not have adequate access to safe daytime shelter out of the elements," says Susan Rauscher, Executive Director Catholic Charities. "Even with the moderate temperatures this fall, one person has already died downtown due to exposure. We know of another person admitted to an area ICU under similar circumstances who is not expected to survive."
The daytime warming stations will be compliant with Covid-19 protocols, providing clean, safe shelter and food. Both locations will be disinfected nightly. For admittance to the shelters, guests must be symptom-free and comply with a temperature check. Those who are unwell will be referred to Allegheny County for quarantine.
"The on-going pandemic changes protocol for how we serve those in distress," says Rauscher. "Our experience, however, means we know how to do it safely and with much-needed compassion. Regardless, we simply won't ignore such a critical community need. This in an important element in keeping all of us safe and healthy."
Agency organizers expect to serve between 120 and 150 people each day and are asking for in-kind donations to defray the high costs of cleaning and personal protective equipment to ensure staff and guest safety.
Supplies requested include:
• Oatmeal packets
• Individual sugar and cream servings
• Breakfast bars.
Call Sarah McMurtry, In-Kind Donation Coordinator, at 412-325-6754 to coordinate supply drop-offs.