Join The Prayer Warriors
Each month, we'll email you our prayer of focus and let you know of specific needs for our agency and those we help.
---
Submit Your Prayer Request
We'd also like to pray for you. Each week, our team offers prayers and praises.
Pray with Catholic Charities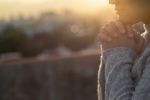 Jesus taught us to "ask, seek and knock" for all we need from our heavenly Father. At Catholic Charities, we've know firsthand that when we do, God responds in ways that change lives for our teams, those we serve and our supporters.
Join us as a prayer partner and help shape how we invite God into our work and serve our communities.
In the Wake of Earthquake in Turkey and Syria
God of hope and mercy, we lift up to you all victims of natural disasters and those responding with assistance and aid. Protect all who are in any form of danger; provide practical help to those in need; strengthen the weary, console the grieving, heal the suffering; and bless those engaged in disaster relief efforts with safety and courage. Help all people of good will respond with compassion and generous hearts. Amen.