Join The Prayer Warriors
Each month, we'll email you our prayer of focus and let you know of specific needs for our agency and those we help.
Submit Your Prayer Request
We'd also like to pray for you. Each week, our team offers prayers and praises.
Submit a Video Prayer Request
Record your prayer request and we'll share with our team during our prayer services.
Pray with Catholic Charities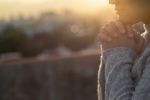 Jesus taught us to "ask, seek and knock" for all we need from our heavenly Father. At Catholic Charities, we've know firsthand that when we do, God responds in ways that change lives for our teams, those we serve and our supporters.
Join us as a prayer partner and help shape how we invite God into our work and serve our communities.
October 2022
Sovereign and gracious Father, The unthinkable not only can happen, but it so often does. We had hoped our days would be different at this point, but new confusions, difficulties and anxieties continue to emerge for so many of our neighbors and communities. We know that You, however, are not a God of confusion or fear. Instead, we praise You as the one who has given us a spirit of power, love and discipline. Help us gather our hearts and thoughts as we organize our lives to serve those You put before us. Empower us with desire and equip us with strength of mind and ability in these divine assignments. Amen.