December 2022 – Call to Family, Community and Participation
Emmanuel. God with us.
Who among us really believes doing life alone is preferable? God created us to live in community and gave us the Trinity as a model of perfect love and fellowship. When we try to live independently – or imply others are better off separated from community – we actively deny our Father's best plan for us and miss the many blessings of doing life together.
As the year closes, let's again reflect on the truth that God presented Himself as a vulnerable infant, humble in spirit and circumstances, to be with us. What attitude of praise and worship we can bring Him? And in what ways we can recognize and serve each other in community to the glory of His Name: Wonderful Counselor, Mighty God, Everlasting Father, Prince of Peace. Emmanuel.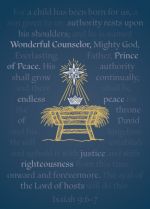 Therefore the Lord himself will give you a sign; the young woman, pregnant and about to bear a son, shall name him Emmanuel.
Isaiah 7:14
O Lord,
We could never have imagined the gift of a savior presented as a newborn. Moreover, it remains hard for us to recognize the gifts you've abundantly poured into each of us for all of us. Forgive any willful ignorance and open the eyes of our hearts to see and know Your expression of love in every person. Help us understand the importance of community and the divine roles You have given each us as we extend the hope of Christmas year-round.
Bless Catholic Charities with creativity, resources and opportunity to bless our neighbors
Show each of us the ways You are calling us to grow in You in 2023
Increase supporters willing to give their time, treasures and talent
Draw those who need help to find it and recognize You as the source of every good thing
In Christ's Name, Amen.
Prayer Archives