This program is made possible due to the generosity of John and Lisa Gismondi and the Gismondi Foundation.
Video Series
Family Christmas Plan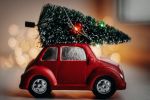 The following information is important for your participation. Over the next five weeks, we will share a video a week that covers important topics:
Welcome Introduction
Volunteering
Budgeting
Stress Management
Traditions
Check your email regularly: You will receive a reminder when each video is ready to watch.
Please take 15 minutes each week to:
Watch the video
Develop a personal plan of action for you and your family
Complete the questionnaire you'll find with each video
You're well on your way to a joyful season of hope!