Catholic Charities Annual Hope from Home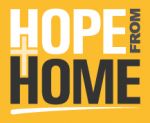 Benefits: Catholic Charities Agency Wide
Date: May 3 - May 31, 2021
Location: cchopefromhome.org
Celebrating the achievements of those in southwestern Pennsylvania who are making a positive difference in our communities, sharing messages of hope and giving our loyal supporters an opportunity to support our work during our largest annual fundraiser.
2021 Community Caritas Awards
We're excited to celebrate those whose vision, heart and inspiration are changing our communities. Each Friday on www.cchopefromhome.org we will highlight one of our recipients. Below is a full list of those we're looking forward to celebrate. Be sure to visit Hope from Home for our awards schedule.
Pirates Charities
Peoples Natural Gas Co
Archabbot Douglas R. Nowicki, O.S.B
Second Avenue Commons

Bill Demchak, PNC Bank
David Holmberg, Highmark Health
Jeffrey A. Romoff, UPMC
Event Sponsors
Gold Sponsors
Silver Sponsors
Federated Hermes
Gateway Health
Tom & Becky McGough