Mission of Mercy Pittsburgh
Date: August 5-6, 2022
Time: Doors open at 6 a.m. / Clinic opens at 7 a.m.
Location: David L. Lawrence Convention Center
New this year: free on-site eye exams & hearing care!
Mission of Mercy Pittsburgh is a dental, vision, and hearing clinic where dental treatment is provided at no cost to individuals who cannot afford dental care. Treatment is provided on a first-come, first-served basis and is expected to serve several hundred individuals. Please come early! There is no pre-registration.
More Info: MomPGH.org
Catholic Charities to Provide Aftercare Following Ninth Annual Mission of Mercy Pittsburgh Event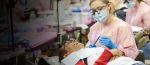 Dental volunteers and representatives from Catholic Charities Free Health Care Center are preparing to provide free aftercare for patients attending the ninth annual Mission of Mercy Pittsburgh (MOM) event August 5 and 6 at the David L. Lawrence Convention Center in Downtown Pittsburgh.
Through the generosity of volunteer dental professionals, MOM provides free dental services without restrictions to those unable to access quality care. For issues too complex to address immediately, Catholic Charities will offer further assessment or more advanced procedures, including root canals, bridges and complex extractions.