Hope from Home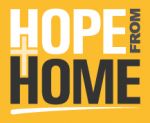 Benefits: Catholic Charities Agency Wide
Date: May 3 - May 31, 2021
Location: cchopefromhome.org
Thank you to all of our 2021 Hope from Home supporters who helped us exceed our fundraising goal. Your generosity raised $601,380 during our month-long Hope from Home campaign.
Your contribution means we will be able to continue to act on our shared belief that all people – every person, every family – has the right to shelter, stability and functioning utilities. We'll be able to continue to:
Welcome any person in distress regardless of their background or story.
Prioritize immediate need — especially those at risk of harm.
Reframe every urgent need that comes before us as an invitation to partner with us for long-term stability.
2021 Community Caritas Awards
We're excited to celebrate those whose vision, heart and inspiration are changing our communities. Each Friday on www.cchopefromhome.org we will highlight one of our recipients. Below is a full list of those we're looking forward to celebrate. Be sure to visit Hope from Home for our awards schedule.
Pirates Charities
Peoples Natural Gas Co
Archabbot Douglas R. Nowicki, O.S.B
Second Avenue Commons

Bill Demchak, PNC Bank
David Holmberg, Highmark Health
Jeffrey A. Romoff, UPMC
Event Sponsors
Gold Sponsors
Silver Sponsors
Federated Hermes
Gateway Health
Tom & Becky McGough