Catholic Charities Free Health Care Center
Catholic Charities Free Health Care Center is hosting several free wellness fair for adults. Click here for more details.
Community Wellness Fair Dates:
March 11, 2023
10:00 AM - 2:00 PM (Allegheny County location TBD)
April 1, 2023
10:00 AM - 2:00 PM (Butler County location TBD)
---
Catholic Charities Free Health Care Center provides completely free, high-quality medical and dental care to those 19 years-old and older, whose income is within 250% of the federal poverty guideline.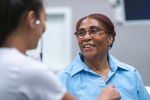 Our providers treat routine issues and identify serious problems, creating treatment plans to restore health.
Services include:
Primary care visits, including extensive first visit evaluations
Treatment plan development
Dental and health screenings
Dental and medical therapy and management
Chronic disease management
Coordination of preventative care
Health promotion and education, including diabetese education
Nutrition and diet counseling
Specialty care (including cardiology; pulmonology; orthopedics; dermatology; ear, nose, and throat; endocrinology; gynecology; ophthalmology; physical therapy; rheumatology; partial & full prostheses/crowns; periodontics, and endodontics)
Care Coordination for any external provider referrals (private practices, medical/dental schools, etc.)
Coordination of financial assistance enrollment applications for any external lab and testing referrals and pharmacy assistance programs
Call 412-456-6911, for eligibility requirements or to make an appointment. Select option #1 for the enrollment line.