January 2023 – Life and Dignity of the Human Person
Happy 2023! If we are blessed to live the full year before us, we will each have 525,600 minutes. There will be hard moments and points of joy. There will be people along the way who are easy to love and those who simply aren't.
Understanding that every moment is a divine gift and every person we meet is God's own image, how we spend our time and interact with each other are opportunities to honor our Creator.
When we consider the value of the person directly in front of us, we engage in the great God hunt ... seeking His face in those of others and honoring Him by honoring them.
At the end of your 525,600 minutes in 2023 how many times will you have seen God's own image? May His face always be before you, and may you recognize Him in all His disguises.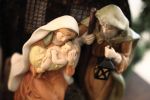 The Lord bless you and keep you; the Lord make His face to shine upon you, and be gracious to you; the Lord lift up His countenance upon you, and give you peace.
Numbers 6:24-26
Almighty God,
Thank You for bringing us to another New Year, filled with opportunities to bless others because You bless us first every morning. Let this year be one of unusual opportunity to honor and glorify You. Please equip us with Your strength, patience and energy to point the way to You and bring You joy.
Bless Catholic Charities with creativity, resources and opportunity to bless our neighbors
Show each of us the ways You are calling us to grow in You in 2023
Increase supporters willing to give their time, treasures and talent
Draw those who need help to find it and recognize You as the source of every good thing
In Christ's Name, Amen.
Prayer Archives