Winter survival bags can be a lifesaver for the homeless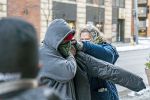 PITTSBURGH POST-GAZETTE — Susan Rauscher chuckled under her mask when asked in jest how she knew Saturday morning would be one of the best days to distribute winter clothing to the homeless.
"My car said it was 6 degrees on the drive in here today," said the executive director of Catholic Charities. "I guess it could be a good day or a bad day for this. I'd hate to be standing in line outside right now to get one of our bags."
Ms. Rauscher coordinated the distribution Saturday of 225 13-gallon draw-string plastic bags filled with cold-weather essentials at the group's office and winter warming station at 212 Ninth St., Downtown. Nearby, at the corner of Ninth Street and Liberty Avenue, volunteers passed out cups of hot chocolate.
A survey last year found that there were 692 homeless people in Allegheny County, with just over 500 staying in shelters. County officials said a rise in omicron COVID-19 cases forced a delay in the release of its January 2022 count, now expected to be available in February. But Ms. Rauscher said the current dip in temperature and continued problems related to the pandemic have filled the available beds at city shelters.