Matching Gifts this Lent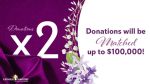 During this Lenten season, every gift to Catholic Charities, Diocese of Pittsburgh will be matched up to $100,000!
Every dollar contributed to the campaign, up to $100,000, will be matched dollar-for-dollar thanks to our generous supporters.
Your support helps strengthen those in distress as they make the decision to walk the hard desert road instead of looking for the quick "wins."
Visit our Donation Page to give and have your gifts matched. Thank you!