Free Pregnancy and Parenting Services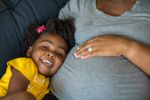 Under the best of circumstances, parenting is a challenge. For those who cannot see a way forward or are struggling with the prospect of bringing a baby into the world, Catholic Charities of Pittsburgh is ready to help with practical assistance and ongoing care.
We provide free and confidential services, including counseling, child development and parenting education, free pregnancy tests and essential tangible goods, such as diapers and baby clothes.
We also provide a hand to hold and a heart to share.
No matter your background or circumstances, if you're a mom of a child under the age of two, or a mom-to-be, we're here for you.
For pregnancy and parenting services only:
Call: 412-456-6948
Text: 412-855-2748