FHCC purchases new retinal camera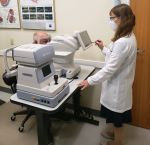 Catholic Charities continues to provide high-quality, patient-centered medical and dental care through our Free Health Care Center for adults who are uninsured or under-insured.
The medical team has recently purchased and installed a new retinal camera with the help of Ed Kramer of Beitler McKee Instruments. This equipment expands our services to provide high-quality ocular care to our patients.
Additionally, though our partnership with the University of Pittsburgh, we're hosting a monthly audiology clinic. Appointments for eligible patients include an exam, audiogram and, if needed, same-day hearing aids.
Meanwhile, our dental team is preparing to offer exclusive follow up care to patients attending the Mission of Mercy Pittsburgh free dental clinic later this month. Our team will be on-site for the two-day event, which is anticipated to attract more than a 1,000 people seeking care.