Collecting In-Kind Donations to Support Displaced Persons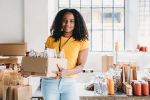 Catholic Charities of Pittsburgh has recently expanded our program offerings to serve refugees and displaced persons of war. These individuals and families are in need of basic items included on this list. Please show your support and help welcome our new community members to our city by purchases items off this wish list.
Pressing Needs
Our area's most pressing needs include:
Hygiene Supplies

Laundry Detergent

New Household Linens

Grocery Store Gift Cards
It is difficult for us to pick up in-kind donations, but they may be dropped off at one of our office locations or program sites.
Amazon Wish List
Make an In-Kind Donation benefiting Catholic Charities of Pittsburgh through our Amazon Wish Lists. To view a Wish List, click one of the links listed below and sign into your Amazon account.