Catholic Charities named Best Place to Work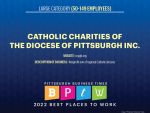 We're thrilled to share that Catholic Charities has been named a 2022 Best Place to Work by The Pittsburgh Business Times.
We believe our awesome place of work starts with a passionate heart for the work we do.
With a clear vision of who we are and who we serve, we take pride in helping each other meet our high standards with creativity and dedication.
We happen to think our team members in each of our six counties of services are pretty special and are pleased to see they're recognized among the highest caliber of workplaces in the Pittsburgh region.